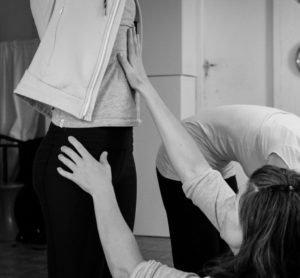 Few years ago at a friend's birthday, my sister was sharing with Jean-François that her back was hurting more and more. Jean – François always attentive and direct told her :
– "Do you know that is what sister does for a living ? "
Then my sister asked me to give her a one on one telling me that she already tried yoga and it made her more bored than anything else.
So I gave her a one on one  concentrating on the activation of the spine, guiding her along the idea that the spine takes 2 opposite directions from the waist.
Indeed,
Between the 4th and  5th lombar vertebra, the spine separates in 2 opposite directions. From the waist to the tailbone, the spine, more precisely the spinal fluid like to move downward following Gravity like a root would do. This allows the minimum anchoring in order to later bring the lightness up and find a gracious, easy and stable mouvement.

To bring this lightness up, the spine, like a tree's branch, carries, from the waist to the head, the spinal fluid up allowing the head and the arms to move freely.

These 2 opposites directions both toward the earth and toward the sky take the spine into a simple danse and create the necessary space at the waist level to allow an harmonious, tonic and soft mouvement for the whole body.
Surprise with the turn of the class as at anytime we were concentrating on doing postures but allowing playfulness and the exploration of the natural dynamic of her back to guide us, ma sister cried out :
– "That is so playful this Yoga ! !".
It was so nice to experience her change of mind.
Your spine and your consciousnes or attention are enough to spend a quality and memorable time with yourself.
Here is the beauty of this new approach to Yoga.
I wish you a wonderful practice.
Om shanti
Florence
Anuka Yoga